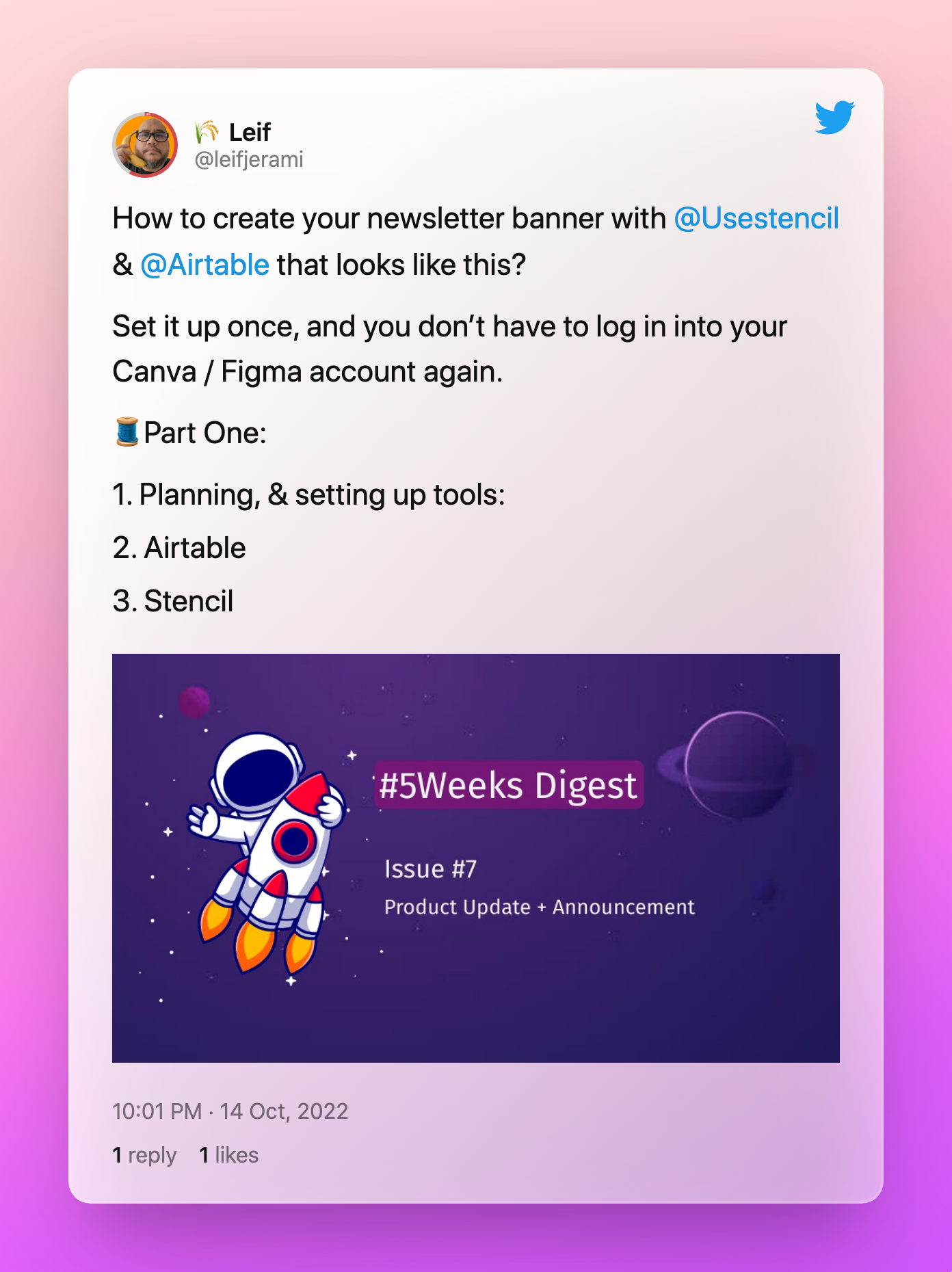 #5Weeks Digest - Issue #8
Hey friends, welcome to the 8h issue of

#5Weeks Digest

.
Also welcoming all new subscribers.👋🏼
Thanks for the early support. Really appreciate the kind gesture!💖
If you missed the previous issues, you can check them 
here
.
And if you received this email from someone else, do consider subscribing, and you'll get a free template.
Subscribe
---
Pushing to complete the whole series.
At last, some progress! I'm finally going to finish "Create Banner with Stencil and Airtable".
If you're stuck, make a mini challenge out of the task(s);
"Does it make more sense to tweet (the guide) or post them as a blog post?"😅
Those who bought it will get the template on Monday. So watch out for the email.
I will talk about the next build/guide, "Send Weekly Digest with Airtable", on the next one.
---
| | |
| --- | --- |
| | Sales/landing page launched to public |
| | Product building in progress |
| | Writing and/or recording video guides |
| | Product is complete and sent to buyers |
---
Airtable Wiz first guide as a tweet thread🚀
Here's the guide for "Create Banner with Stencil and Airtable". I have to cut it into two parts.
---
You can go through it and try it on your own. This is a shorter version without the template.
But of course, if you wait for a bit, you'll definitely get the full version.
Here's
Part One
. You can click on the same link tomorrow for Part Two (last tweet).
---
---
I guess that's all for this week's issue.
If you have any ideas or suggestions, please do me a favour and click on the "Reply" button.
Or, if you prefer to have a 1:1 call, head over here to
chat
.
Until then, have a good weekend!
Cheers,
Leif-FG!🚀